That's right, treat Santa (and by Santa, we really mean YOU) to a new sleigh from Doug Smith Kia with amazing Black Friday deals. While everyone else is out fighting in the aisles over the next big toy, you can be perusing and test driving the new 2015 Kia Optima.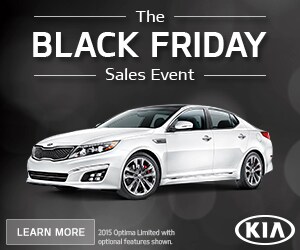 The 2015 Optima boasts bold styling, grin-inducing performance and the latest technology. And for our Black Friday sale, well-qualified buyers can finance the Kia Optima for 72 months at 0% interest. So Santa gets all the comfort of a new sleigh and even Ebenezer Scrooge will have to agree this is a great deal!
Maybe Santa wants something a little bigger? Enter the 2015 Sorento, Kia's most popular selling vehicle. Also equipped with the latest technology, this roomy crossover has an optional 3rd row of seating, plenty of room if you have a few extra elves to get around town! Just like the Optima, well-qualified buyers can finance the Kia Sorento for 72 months at 0% interest, leaving plenty of extra green in your wallet this holiday.
The Black Friday Sale starts now at Doug Smith Kia and runs through December 1, 2014. Doug Smith Kia is located at 495 West Main Street in American Fork, Utah. They can be reached directly at (877) 495-4690.
View current specials here.