In the world of heavy duty
trucks, the competition is tough and being able to tout just one best in class feature is a huge advantage. RAM has the triple play for 2015. The 2015 RAM lineup, now claims best-in-class ratings for torque, towing and payload, depending on configuration.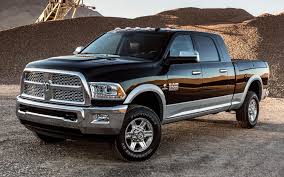 New Cummins 6.7-liter calibration adds 15 lb.-ft. of torque, edging out even Class 4 pickup competitors to a best-in-class 865 lb.-ft.

2015 Ram 3500 crushes the competition with up to 30,000 pounds of SAE J2807-spec. towing capacity, beating the closest competitor by nearly 1.5 tons

2015 Ram 2500 holds best-in-class 17,970 pounds of towing capacity, while adhering to SAE J2807 test criteria

New best-in-class payload of 7,390 pounds (Ram 3500)

Ram maintains credibility and customer confidence as the only automaker to align with the SAE J2807 towing standard for its entire pickup truck line

Best-in-class Gross Combined Weight Rating (GCWR) of 37,900 pounds

The first 2015 Ram Heavy Duty trucks begin rolling off the factory line this week

Unsurpassed powertrain warranty – five years/100,000 miles

"Ram maintains leadership throughout its pickup line by offering best-in-class fuel efficiency with our Ram 1500 EcoDiesel at 28 MPG, best-in-class towing at 30,000 pounds, best-in-class power at 865 lb.-ft. and best-in-class payload at 7,390 pounds with our Ram 3500," said Bob Hegbloom, Head of Ram Truck Brand, Chrysler Group LLC. "Ram owns best-in-class attributes in the areas that are most important to truck customers."


The new 2015 RAM Trucks will soon be arriving at Doug Smith Auto-- call today to schedule a test drive! 1-800-553-3099