The 2015 Kia Forte is making a splash in the compact car segment. Appealing to their demographic, the Kia Forte has a wide array of tech features available. A sporty exterior is combined with a top-notch interior that's well-designed with quality materials. Here's what the automotive industry is saying about the 2015 Kia Forte.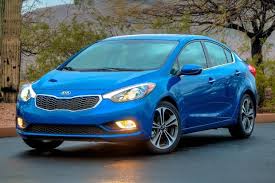 "With strong fuel economy, interior space, value, and an impressive list of available features that is almost unheard of in this segment, the Kia is a strong contender in its class. While we'd prefer the Kia to drive a little more enthusiastically, that's simply not a priority for most prospective owners." --

Motor Trend
"To better compete in the small car segment, Kia redesigned the Forte last year. We were pretty impressed with the result, and it earned an 'A' rating from our staff as a result. And the 2015 Forte keeps that ball rolling. Pick the Forte and you get a fair price, peppy acceleration, generous standard features and a comfortable cabin with high-quality materials." -- Edmunds
"Put together, the Forte lineup is a strong competitor against established names like the Honda Civic, Toyota Corolla and Ford Focus. One thing's certain: The Forte makes picking a good compact car that much harder." -- Kelley Blue Book
"Since arriving on U.S. shores back in 1991, Kia has rapidly evolved from a purveyor of bargain-basement econoboxes into a stylish and fully modern brand that can compete with the best the mainstream market has to offer. Perhaps no model is as emblematic of Kia's progress as the latest Forte, a compact sedan that combines the value for which the automaker has become known with an attention-grabbing exterior design and a high-quality cabin." -- Left Lane News
See all the tech specs and options available on the new Kia Forte by clicking here.