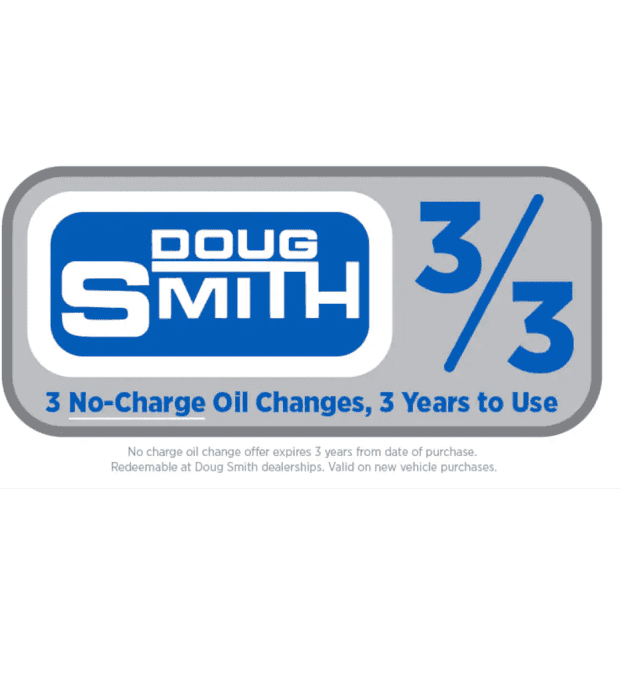 Doug Smith's 3/3 Maintenance Program
Doug Smith offers a No-Charge Maintenance Program. All new vehicles purchased at Doug Smith receive the 3/3 Doug Smith No-Charge Maintenance Package.
This is one more reason to choose Doug Smith when you are looking for a new car for sale in Utah. Buy a new car without the hassle. When you call or visit one of our stores, be sure to ask about the Customer Care No-Charge Maintenance Program.
3/3 Maintenance Package
3 No-Charge Oil Changes
3 Years to Use
Schedule Maintenance

Commercial Vehicles
Commercial business is our business, and we've got the built-for-work vehicles, On The JobTM allowances, and the keep-you-on-the-road-to-profitability specialized service and sales expertise to prove it.
Whether it's a Ram truck, a commercial van, a Chrysler sedan or a Jeep® brand SUV, let us help you select the right vehicle and programs to meet your unique business needs.
Learn More
Welcome to

Doug Smith Dealerships

The Best Car-Buying Experience Ever. That's a bold claim, and we are ready to stand by it. For more than 40 years, the Doug Smith Dealerships has successfully met and exceeded the expectations of our clients. Very simply, we adopted a mission statement to "Provide outstanding service by treating others the way we like to be treated," and that still guides us today.

In each of our stores, we are proud to employ experienced staff in sales, finance, and service to make sure your car-buying experience is stress-free and enjoyable. After all, buying a new car is exciting, and we want to keep it that way.

We make car buying easier.
Customer Reviews
Working with Andy Dobmann, our salesman, is great. Wonderful experience. Bought many cars from Andy over the years. I trust him. He cares and I will continue to buy from him in the future.
This is a great dealership. They are super honest and transparent. We didn't experience any high-pressure tactics and during the purchase there were no added fees or dishonest markups (which many dealerships are doing like crazy right now with the ongoing vehicle shortages). We drove an hour to buy from them because the same could not be said for our local dealership. This was the most pleasant experience that I have ever had with any car dealership ever! I would purchase from them again without hesitation.
Best place to purchase or service a vehicle. The Smith family really cares about their customers. I just bought a 2023 Kia Sportage and it is the best car ever. I love these guys.
They were easy to work with. No high pressure selling. No packing the payments with accessories or services I didn't want. I would recommend Doug Smith to anyone.
We have worked with Brandon Anderson in purchasing Kia Tellurides for the past 3 years. Brandon is great to work with and very responsive. Just picked up our 2022 Telluride Wolf Gray two days ago. Brandon had it already to go when we arrived and he made the sales process very streamlined. We will be back to buy more cars from Doug Smith Kia and also Doug Smith Subaru. (We purchased a CrossTrex Subaru from Doug Smith in March 2022 and we love it!
We worked with Chad and he was very kind, respectful and professional. I had dealt with many other dealers in my car shopping experience that were just bad and he and Doug Smith KIA made this process so painless. It was smooth and he went out of his way to help us and give us a good deal. I would definitely recommend them and would buy from here again.
Our salesman was Javier, he was the best. And the financial person was great as well. It was easy to purchase our new Dodge Ram, no hassle and everyone was very friendly. Javier answered all our questions, helped with extras we wanted on the truck, even schedule us a loaner car since we were from out of town to use while our trailer hitch was being installed.
We were extremely pleased with the service we received. Blaine Brady was very helpful and patient. The car was in excellent condition when we picked it up. Thanks taking the stress out of this experience! I know that if I need more help with anything they will be there for me.
I took my Subaru into a dealership where they informed me, it would cost over $600.00 to fix the tail gate, so I went to Subaru in American Fork for help. David Sanders greeted me, entered the car where he flipped a switch. He solved the problem, tail gate moves up and down. David is so capable, intelligent, charismatic and professional. He made my day, with his awesome attributes. Thank you David, I appreciate your help, I thought your qualities were a thing of the past. Dorothy Herrera
Went to Doug Smith Ram in American Fork for a new truck. Javier my salesperson and Jeff the financial officer went above and beyond to help get me into a new full size truck. Javier honestly was the best salesperson I have dealt with in years. No pressure from him what so ever did everything in his power to make it happen. If I had a question he was quick to amswer. This is a great dealer no hassle and truthful. My family and I will be going back for our Jeep when it comes time. Hopefully Javier and Jeff ...
View Hours
American Fork Hours
Chrysler Dodge Jeep Ram
Subaru
Kia
Spanish Fork Hours
Chrysler Dodge Jeep Ram
Chevrolet